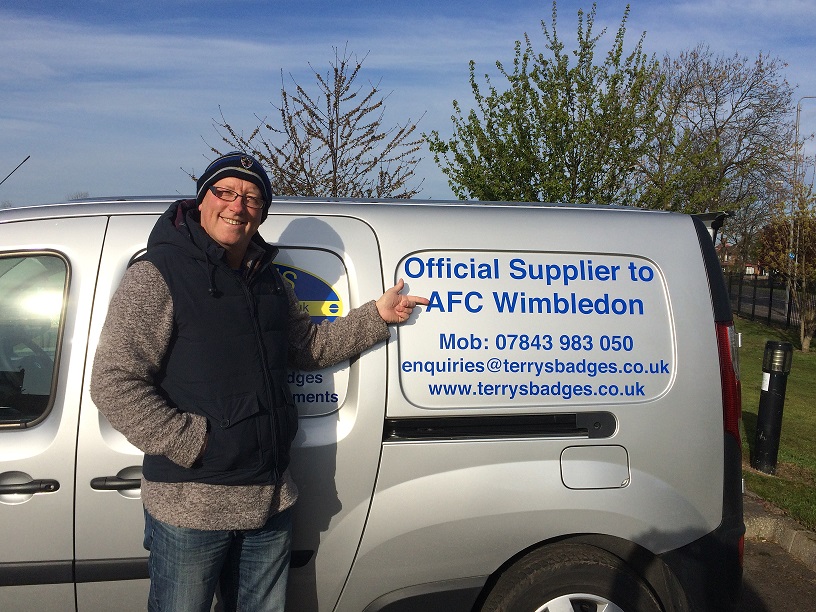 Welcome to Terry's Badges
Welcome to my Web Site!

This site is dedicated to Non-League football badges.
I have always had a passion for Non-League football, as a player, manager and chairman of my local clubs. I enjoyed 21 successful years as a player with Stokenchurch FC, Lane End FC and Beacons Bottom Athletic FC. I also played for the very successful Lane End United FC Sunday side.

I collect English Non-League badges plus I have many for sale as you will see on this site! I also design and produce badges for 100's of Non-League clubs up and down the country. I only use the best enamel and fittings as most of you will testify.

I am a keen AFC WIMBLEDON supporter and attend all home and some away games. I also like to visit loads of Non-League grounds. I also design, produce and sell all AFC's badges with all the profits from these badges going to AFC! As far as I am aware we are the only club to have a framed set of badges for every season!

If you click my "sales list" you will find the 100's of badges I have for sale. If your club/business require a badge please contact me for production details.

If you have any queries please use my "contact" link.

TERRY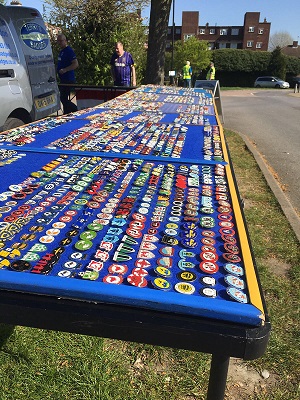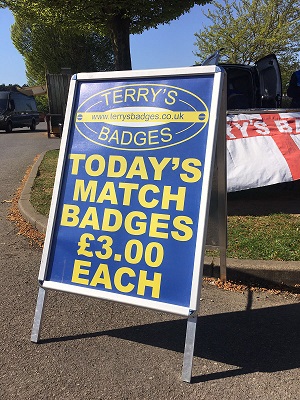 If you would like a badge produced for your football club/company/school/or any other sports club let me know! Please visit my production page for further details
The website is not always up to date. Please feel free to send me a list of your requirements and i will let you know what i have in stock
On up-dated pages
BLACK = In Stock - RED = Out of Stock
New badges added, previously not listed:
26/12/21 - Waltham Abbey 588 - General page "W"
26/12/21 - Lewisham Borough 289 - New 21/22 page
26/12/21 - Bury Amatuer 100 Years 806 - New 21/22 page
26/12/21 - Great Wakering Rovers 223 - General page "G"
26/12/21 - Fawley 218 - General page "F"
26/12/21 - Cambridge FC 577 - General page "C"
26/12/21 - St Martins 125 Years 754 - New 21/22 page
26/12/21 - Ash United 110 Years 286 - New 21/22 page
26/12/21 - Ardley United 287 - New 21/22 page
26/12/21 - Bestwood Colliery 807 - New 21/22 page
26/12/21 - Wolverhampton Casuals 595 - New 21/22 page
19/01/22 - East Preston 233 - General page "E"
19/01/22 - Priory Vale 205 - General page "P"
19/01/22 - Hemel Hempstead Town 570 - General page "H"
19/01/22 - Squires Gate 755 - General page "S"
19/01/22 - Ardingley 288 - New 21/22 page
BADGES BACK IN STOCK
Aylesbury United 172
Dudley Sports 233
Cheddar 404
Kennington 152
Holmer Green 252
Barwell 639
Winterton Rangers 569
Ashford Town (Middx) 122
Slough Town 369
Colney Heath 495
Cadbury Athletic 1
Avro 250
AFC Stoneham 698
I will have my badge stall at the following events!
AFC Wimbledon v Ipswich Town 25/01/22
AFC Wimbledon v Shrewsbury 29/01/22
AFC Wimbledon v Cheltenham 01/02/22
AFC Wimbledon v Rotherham 08/02/22
AFC Wimbledon v Sunderland 12/02/22
Wycombe Wanderers v Cheltenham 19/02/22
Wycombe Wanderers v Wigan 22/02/22
AFC Wimbledon v Doncaster 26/02/22


NORTH WEST COUNTIES GROUNDHOP 4th March to 6th March
Golcar Utd, Bacup Borough, Padiham, Nelson, Barnoldswick, Steeton, Ilkley Town


SCOTTISH GROUNDHOP 18th March to 20th March
Caledonian Braves, Glenrothes, Crossgate Primrose, Dundonald Bluebell, Hill of Beath, Oakley Utd











LAST UPDATED 23/01/22 - 10.39
Terry Hall