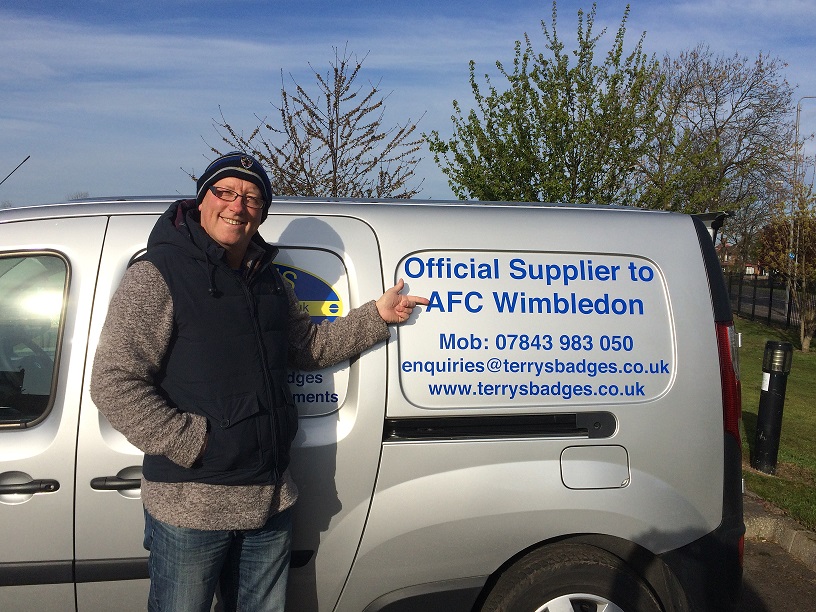 Welcome to Terry's Badges
Welcome to my Web Site!

This site is dedicated to Non-League football badges.
I have always had a passion for Non-League football, as a player, manager and chairman of my local clubs. I enjoyed 21 successful years as a player with Stokenchurch FC, Lane End FC and Beacons Bottom Athletic FC. I also played for the very successful Lane End United FC Sunday side.

I collect English Non-League badges plus I have many for sale as you will see on this site! I also design and produce badges for 100's of Non-League clubs up and down the country. I only use the best enamel and fittings as most of you will testify.

I am a keen AFC WIMBLEDON supporter and attend all home and some away games. I also like to visit loads of Non-League grounds. I also design, produce and sell all AFC's badges with all the profits from these badges going to AFC! As far as I am aware we are the only club to have a framed set of badges for every season!

If you click my "sales list" you will find the 100's of badges I have for sale. If your club/business require a badge please contact me for production details.

If you have any queries please use my "contact" link.

TERRY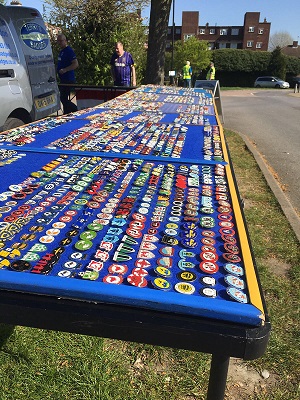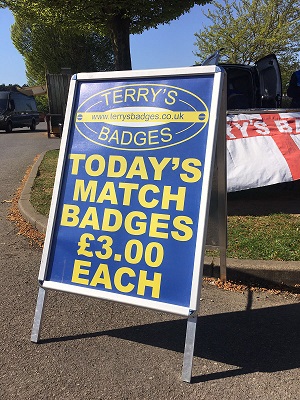 If you would like a badge produced for your football club/company/school/or any other sports club let me know! Please visit my production page for further details
The website is not always up to date. Please feel free to send me a list of your requirements and i will let you know what i have in stock
On up-dated pages
BLACK = In Stock - RED = Out of Stock
New badges added, previously not listed:
22/06/22 - Boldon CA 818 - General page "B"
22/06/22 - City of Wakefield - General page "C"
22/06/22 - Hallam 577 - General page "H"
22/06/22 - Brightlingsea Regent 819 - General page "B"
22/06/22 - Crouch End Vampires 584 - General page "C"
22/06/22 - East Cowes Vic 239 - General page "E"
22/06/22 - Tilbury 241 - General page "T"
22/06/22 - Gosport Borough 225 - General page "G"
28/06/22 - General page "A" and "B" Up-dated
29/06/22 - General page "C" Up-dated
30/06/22 - General page D, E, F Up-dated
02/07/22 - Virginia Water 53 - General page "V"
02/07/22 - Burbage & Huncote 820 - General page "B"
02/07/22 - Rossvale 382 - Scottish page
02/07/22 - Darvel 384 - Scottish page
02/07/22 - Creetown 383 - Scottish page
02/07/22 - Cobham 599 - General page "C"
BADGES BACK IN STOCK
Shortwood United 112
Morpeth Town 252
Eccleshill United 189
Langford 203
Merton 275
Arundel 256
Warrington Rylands 579
Tibshelf 186
Heybridge Swifts 510
Wirksworth Ivanhoe 568
Wormingford Wanderers 556
Tynecastle 277 (Scottish)
Northampton ON Chennecks 172
I will have my badge stall at the following events!

UNITED COUNTIES LEAGUE GROUNDHOP WEEKEND
29th - 30th - 31st July


THE DERBY FOOTBALL MEMORABILIA FAIR
Sunday 25th September 2022
Nunsfield Social Club, Boulton Lane, Alvaston, DE24 0FD
10.30am to 1pm


STOKE ON TRENT FOOTBALL MEMORABILIA FAIR
Sunday 20th November 2022
All Saints Church, 512 Leek Road, Joiners Square, Hanley.
ST1 3HU
10.30am to 1pm


WOLVERHAMPTON WANDERERS FOOTBALL MEMORABILIA FAIR
Sunday 27th November 2022









LAST UPDATED 02/06/22 - 16.26
Terry Hall