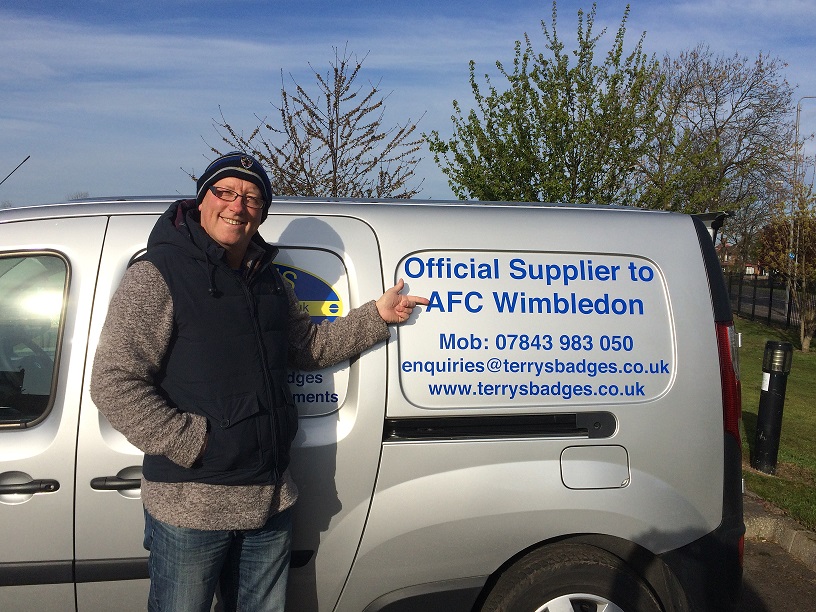 Welcome to Terry's Badges
Welcome to my Web Site!

This site is dedicated to Non-League football badges.
I have always had a passion for Non-League football, as a player, manager and chairman of my local clubs. I enjoyed 21 successful years as a player with Stokenchurch FC, Lane End FC and Beacons Bottom Athletic FC. I also played for the very successful Lane End United FC Sunday side.

I collect English Non-League badges plus I have many for sale as you will see on this site! I also design and produce badges for 100's of Non-League clubs up and down the country. I only use the best enamel and fittings as most of you will testify.

I am a keen AFC WIMBLEDON supporter and attend all home and some away games. I also like to visit loads of Non-League grounds. I also design, produce and sell all AFC's badges with all the profits from these badges going to AFC! As far as I am aware we are the only club to have a framed set of badges for every season!

If you click my "sales list" you will find the 100's of badges I have for sale. If your club/business require a badge please contact me for production details.

If you have any queries please use my "contact" link.

TERRY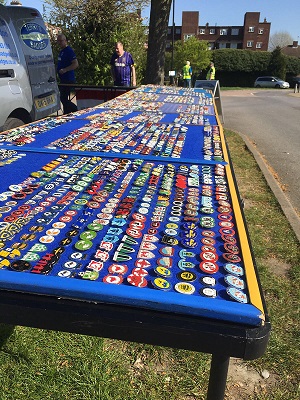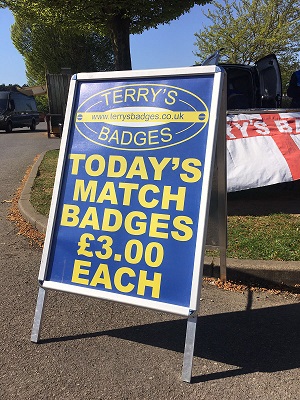 Covid-19
At the moment Terry's Badges WILL remain open as I work from home. As long as the postal service continues to operate I am able to fulfil your orders.
The website is not always up to date. Please feel free to send me a list of your requirements and i will let you know what i have in stock
On up-dated pages
BLACK = In Stock - RED = Out of Stock
New badges added, previously not listed:
12/05/20 - Yarm & Eaglescliffe 44 - General page "Y"
12/05/20 - Bakewell Town 745 - General page "B"
12/05/20 - Newton 152 - General page "N"
12/05/20 - Bank Of England AFC 748 - General page "B"
12/05/20 - Old Parkonians 66 - General page "O"
18/05/20 - Civil Service FC 533 - General page "C"
18/05/20 - Old Blues 67 - General page "O"
18/05/20 - Polytechnic 150 - General page "P"
22/05/20 - Hertford Town 532 - General page "H"
26/05/20 - Brigg Town 745 - General page "G"
26/05/20 - Holt United 533 - General page "H"
26/05/20 - Middlewich Town 277 - General page "M"
Badges back in stock:
Burgess Hill Town 629
Leiston 210
Harefield Town 44
Cirencester Town 417
Bedford Town 635
Penrith 167
Kingstonian 56
Shrivenham 115
Corinthian Casuals 454
Stowmarket Town 411
Polegate Town 191
Littlehampton Town 107 (yellow or black)
Glossop North End 46
Buxton 476
Dorchester Town 217
I will be attending the following events


Wycombe W v Rotherham 04/04/20
AFC Wimbledon v MK 18/04/20
Wycombe W v Gillingham 25/04/20
AFC Wimbledon v Coventry City 03/05/20
LAST UPDATED 26/05/20 - 15.17
Terry Hall