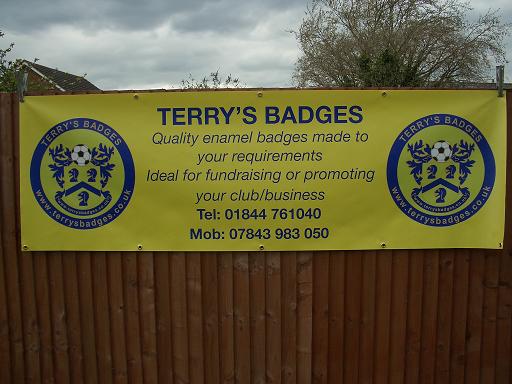 Welcome to Terry's Badges
Welcome to my Web Site!

This site is dedicated to Non-League football badges.
I have always had a passion for Non-League football, as a player, manager and chairman of my local clubs. I enjoyed 21 successful years as a player with Stokenchurch FC, Lane End FC and Beacons Bottom Athletic FC. I also played for the very successful Lane End United FC Sunday side.

I collect English Non-League badges plus I have many for sale as you will see on this site! I also design and produce badges for 100's of Non-League clubs up and down the country. I only use the best enamel and fittings as most of you will testify.

I am a keen AFC WIMBLEDON supporter and attend all home and some away games. I also like to visit loads of Non-League grounds. I also design, produce and sell all AFC's badges with all the profits from these badges going to AFC! As far as I am aware we are the only club to have a framed set of badges for every season!

If you click my "sales list" you will find the 100's of badges I have for sale. If your club/business require a badge please contact me for production details.

If you have any queries please use my "contact" link.

TERRY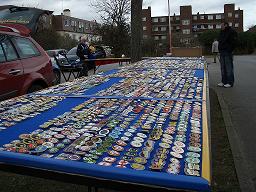 The website is not always up to date. Please feel free to send me a list of your requirements and i will let you know what i have in stock
New badges added, previously not listed:
10/07/18 - Denaby Main 239 - New 18/19 page
10/07/18 - Punjab Utd (Gravesend) 141 - New 18/19 page
10/07/18 - Sun Sports 666 - General page "S"
10/07/18 - Wadebridge Town 419 - General page "W"
24/07/18 - Stilton Utd 667 - New 18/19 page
24/07/18 - Sutton Bridge 668 - New 18/19 page
24/07/18 - Sleaford T 669 - New 18/19 page
24/07/18 - Tydd 226 - New 18/19 page
24/07/18 - Whaplode Drove 422 - New 18/19
24/07/18 - Chesterfield 502 - General page "C"
24/07/18 - Winsford Utd 421 - General page "W"
15/08/18 - East Yorkshire Carnegie 208 - General page "E"
15/08/18 - Highgate United 503 - General page "H"
15/08/18 - Lochee United 329 - Scots page
15/08/18 - Strathspey Thistle 330 - Scots page
Badges back in stock:
13/07/18 - Barwell 71
24/07/18 - Kings Langley 129
03/08/18 - Hartley Wintney 413
03/08/18 - Highmoor IBIS 428
03/08/18 - Brightlingsea Regent 645
03/08/18 - Kingstonian 56
03/08/18 - Peckham Town 164
15/08/18 - Widnes 454
15/08/18 - Tow Law Town 205
15/08/18 - Abbey Rangers 202
15/08/18 -Norwich Utd 196
I
will be attending the following events



Wycombe W v Bristol Rov 18/08/18
AFC Wimbledon v Walsall 21/08/18
AFC Wimbledon v Sunderland 25/08/18


WESTERN LEAGUE GROUNDHOP
5th to 7th October 2018
7 Games


BEDFORDSHIRE GROUNDHOP
Saturday 13th October 2018
3 Games


DERBY FAIR
Sunday 21st October 2018


WOLVERHAMPTON WANDERERS FAIR
Sunday 18th November 2018


MANCHESTER FAIR
Thursday 27th December 2018


GIANT NEW YEAR FAIR
Royal National Hotel London
Sunday 6th January 2019


NORTH WEST COUNTIES GROUNDHOP
8th to 10th March 2019
7 Games


SCOTTISH GROUNDHOP
29th to 31st March 2019
6 Games


EASTER HELLENIC LEAGUE GROUNDHOP
18th to 22nd April 2018
13 Games


CENTRAL MIDLAND LEAGUE GROUNDHOP
3rd to 5th May 2018
7 Games









LAST UPDATED 15/08/18 - 16.14
Terry Hall