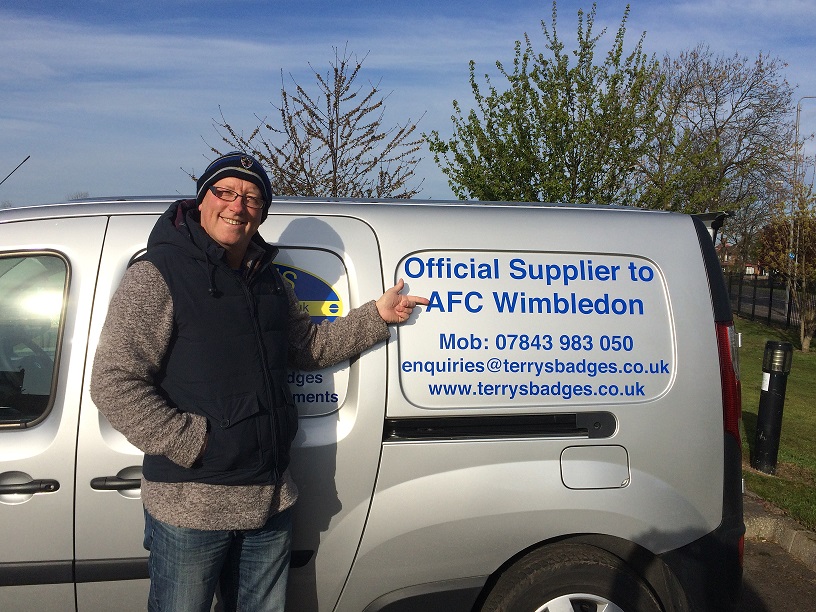 Welcome to Terry's Badges
Welcome to my Web Site!

This site is dedicated to Non-League football badges.
I have always had a passion for Non-League football, as a player, manager and chairman of my local clubs. I enjoyed 21 successful years as a player with Stokenchurch FC, Lane End FC and Beacons Bottom Athletic FC. I also played for the very successful Lane End United FC Sunday side.

I collect English Non-League badges plus I have many for sale as you will see on this site! I also design and produce badges for 100's of Non-League clubs up and down the country. I only use the best enamel and fittings as most of you will testify.

I am a keen AFC WIMBLEDON supporter and attend all home and some away games. I also like to visit loads of Non-League grounds. I also design, produce and sell all AFC's badges with all the profits from these badges going to AFC! As far as I am aware we are the only club to have a framed set of badges for every season!

If you click my "sales list" you will find the 100's of badges I have for sale. If your club/business require a badge please contact me for production details.

If you have any queries please use my "contact" link.

TERRY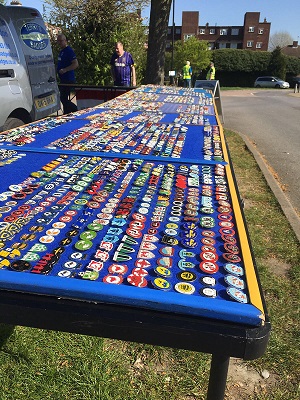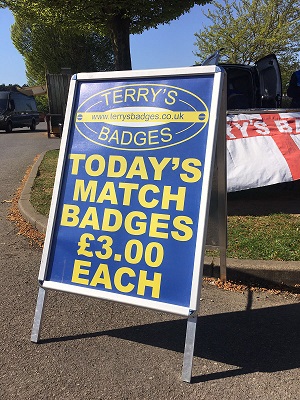 The website is not always up to date. Please feel free to send me a list of your requirements and i will let you know what i have in stock
New badges added, previously not listed:
03/06/19 - New Fair just added below at CHORLEY FC
06/06/19 - As most of you are aware i have been adding loads of photo's to the "gold" section in my quest to build a photo library of older badges that we rarely see. I would like to thank Peter from the Czech Rep for helping me with this. Many photo's are from his excellent collection.
07/06/19 - Jarvis Brook 8 - New 19/20 page
07/06/19 - London APSA 259 - General page "L"
07/06/19 - Ettingshall Holy Trinity 211 - General page "E"
07/06/19 - Aylestone Park 251 - General page "A"
07/06/19 - Bembridge 708 - General page "B"
07/06/19 - Brighstone 718 - General page "B"
07/06/19 - Binstead & Cob 719 - General page "B"
07/06/19 - Carisbrooke Utd 514 - General page "C"
07/06/19 - AFC East Christchurch 212 - General page "E"
07/06/19 - Niton 149 - General page "N"
07/06/19 - Pan Sports 143 - General page "P"
07/06/19 - Ryde Saints 274 - General page "R"
07/06/19 - Shanklin 687 - General page "S"
07/06/19 - St Helens 688 - General page "S"
07/06/19 - Ventnor 48 - General page "V"
07/06/19 - West Wight 511 - General page "W"
07/06/19 - Yarmouth & Colbourne 43 -General page "Y"
13/06/19 - Loads of photo's added every day to "Gold Section"
13/06/19 - General pages being re-vamped starting with "A" page. Bigger photo's, also note new system - BLACK IN STOCK - RED OUT OF STOCK
20/06/19 - General page "C" up dated
20/06/19 - Office will re-open on Monday 8th Juky
Badges back in stock:
Abbey Hulton 230
Coventry Sphinx 475
Clipstone 493
Berkhamsted 716
AFC Bentley 636
AFC Blackpool 498
Basford Utd 708
I will be attending the following events
CHORLEY FC FAIR
Victoria Park, PR7 3DU

Sunday 21st July - 10.30 to 1.30



UNITED COUNTIES & PDL GROUNDHOP

26th to 28th July 2019



DERBYSHIRE FAIR

Sunday 8th September 2019 - details to follow



WITNEY & DISTRICT FOOTBALL LEAGUE GROUNDHOP

13th to 15th September 2019
Details to follow



WESTERN LEAGUE GROUNDHOP

4th to 6th October 2019
Details to follow



BEDFORDSHIRE LEAGUE GROUNDHOP

Saturday 12th October 2019
Details to follow
LAST UPDATED 20/06/19 - 08.46
Terry Hall